Discussion Starter
·
#1
·
Last weekend my wife, son, 5150_4_Boar and RB took a trip to Central Florida in search of pork.
I sat in a blind with my son hoping a hog would make the trip out into the open woods with my son to no avail. Sitting for about 2 hours we heard a snap and a loud squeel, we knew instantly that my wife Natalie had let an arrow go and connected. Here she is with he bbq sized hog, we love smaller ones for the grill.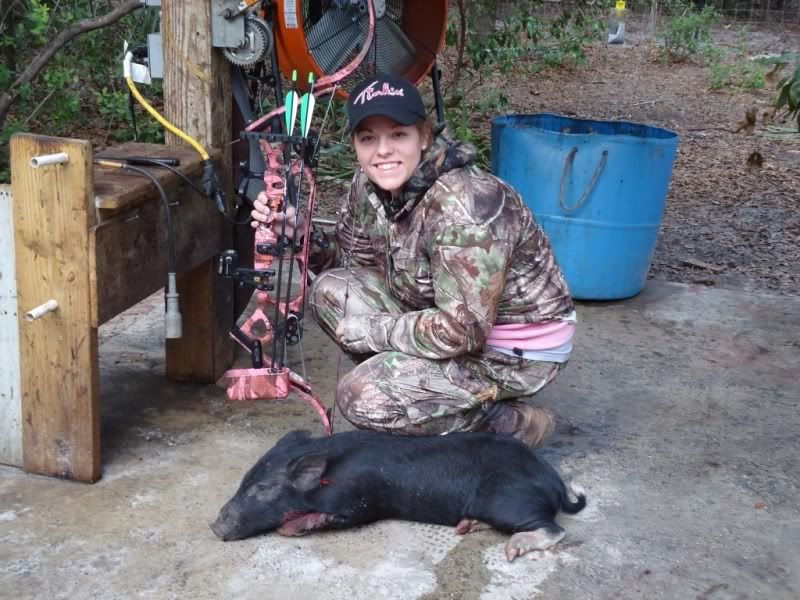 Sitting with my son did not work out so we got up and started a bit of stalking, we slipped over the back of a pond into palmettos when we spotted hogs rooting around a mud hole. We silently stalked up within 50 yards while the hogs milled around rooting, repositioning a few times we picked a hog and waited. Two hogs came into his shooting lane and faced us, one nice white spotted hog and another orangish spotted hog. My son who is 14 said he was nervous and I tried to give him words of encouragement as the pigs started to turn, patiently he waited as the orange hog was broadside for other pigs to move from behind it. Once the clean shot was there I heard a boom and down went his hog. His second hog and biggest of the two 124# sow, .243 at 50 yards off hand. He was very proud and after that Boar nor I could take away his glory. RB well.....he needs to aim a bit higher with a bow.....that is his story though.