$200 OBO
Trade for something cool
I have my adjustable float pods for sale. They came off my 1872 sea ark. They are not in perfect shape. One was about 1/4 full of water when I took it off and the other has a crack in it. Could easily be repaired and drain plugs added with the right equipment.
As you can see in the title, these are adjustable float pods. They are hindged on the bottom with a turnbuckle on top. They can be adjusted for hole shot, speed, and shallow river driving (with jet foot).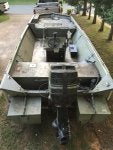 I just don't need them anymore. Hopefully will do someone some good.
Any questions or comments let me know.
Location is Knoxville, TN. I travel regularly to Charlotte, NC... Nashville, TN.... Springfield, TN... so things could be worked out.
8284475769