I apologize ahead of time for the long winded post....
I've been a long time lurker here at BFC. Last year I started bowfishing with some friends in ditches and rivers around where I live. Like everyone else out there I caught the fever. I started out with a used compound and a cheap reel, later upgraded to an osprey. We used a small two-man boat until I upgraded to a 15'x42" Duracraft. The Duracraft had an old 45hp Classic Fifty Mercury and it ran like a top when I bought it and at the house. However, every time I hit the water it would run like garbage or wouldn't run at all. It eventually sprung a leak on the carburetor bowl and I had a small fire. I installed a 45lb thrust Minnkota Edge and used it all season as the primary propulsion source. I outfitted the boat with 6 50w - MoonshineXXX murk lights (Which are Garbage BTW). I used EMT conduit to hang them from and fished off of the front deck.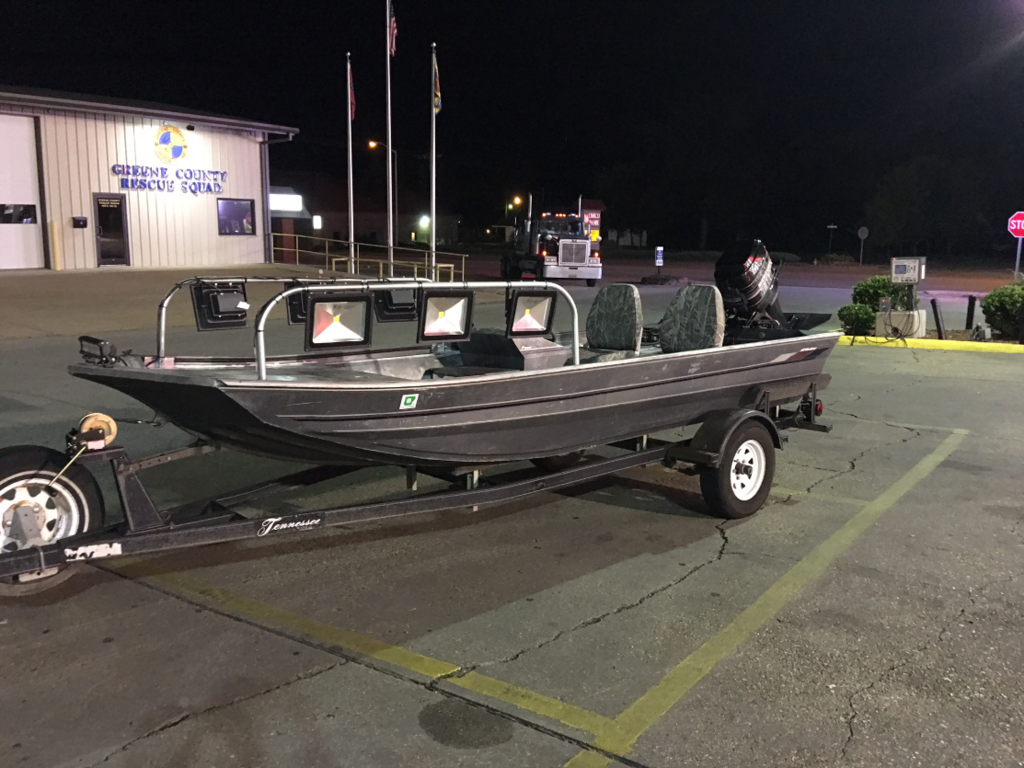 The boat wasn't wide enough to mount the trolling motor across the bow so I had to mount it along the left side. I had the light bars mounted on the inside of the boat with aluminum angle. It was all meant to be temporary to get on the water because i was planning a full rebuild this fall/winter.
Well fall and winter came and went, or is trying to go and the rebuild never happened. I couldn't find a good deal on a motor nor a mechanic to fix the one I had and the boat honestly wasn't wide enough. I wanted a massive 18x60 or 20x72 but realistically it wasn't going to work for me. It was too big to keep under my carport. My father is getting older and he used to love to crappie fish back in the day before we started racing dirt cars. He always wanted me to take him out fishing but never had the means to so this boat was going to be a dual purpose. I looked around and picked out at Tracker 17x54 MVXSC with a 60hp Mercury. I've read good and bad about the tracker series of boats but I think it will fit the bill just fine, it seems to be built well. The front deck is a decent size but I would like it to be a little bigger. I am also looking to have the light rails removable since I am taking dad fishing.
The new boat..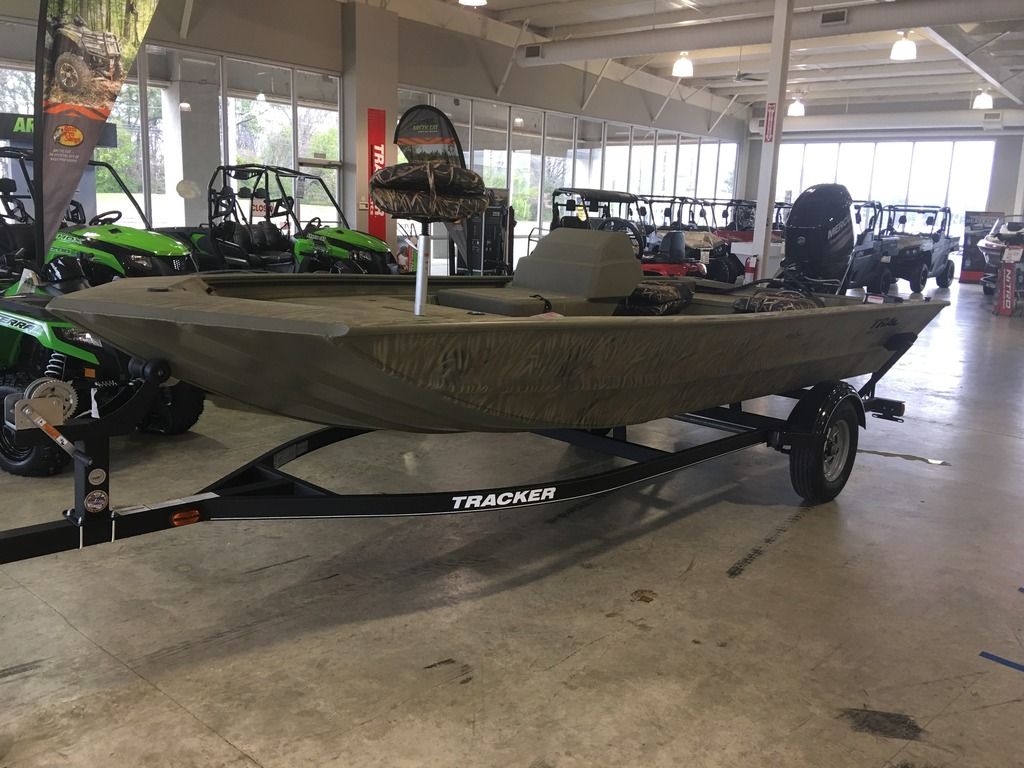 So the plans for this are to build a removable deck extension and light bars. For lights I am running 7-150 compact HPS lights from econolight and a Honda Eu2000i Genny.
My troller is a Minnkota 70lb Maxxum, I bought it from a buddy that pulled it off a new bassboat he bought...
Here is where I need everyone's help. I am trying to figure out the best method to mount the trolling motor, lights and have room for driving lights at the front. I ran a flood/spot combo light bar on the last boat but the trolling motor was mounted straight. This boat is setup to run the trolling motor across the bow from the factory. From what I have read is that the trolling motor needs to be near the center of the boat for best efficiency and tracking. I also would like to mount the lights using the Versatrack system from Tracker. Has anyone used the Versatrack system or another brands system for light rails? Or should I mount them individually? Tracker has a light rail setup on their boats but they don't sell the rails separately. The setup with the lights is over $2600..... No thanks...
I know all of this is completely subject to the users preference but I am looking for ideas. Below is a picture of my boat, The Dark green is where the trolling motor is meant to be. The light blue is where my old trolling motor on the previous boat was. The yellow lines are where I would like the removable deck and the red is where I am planning to have the lights or light bars.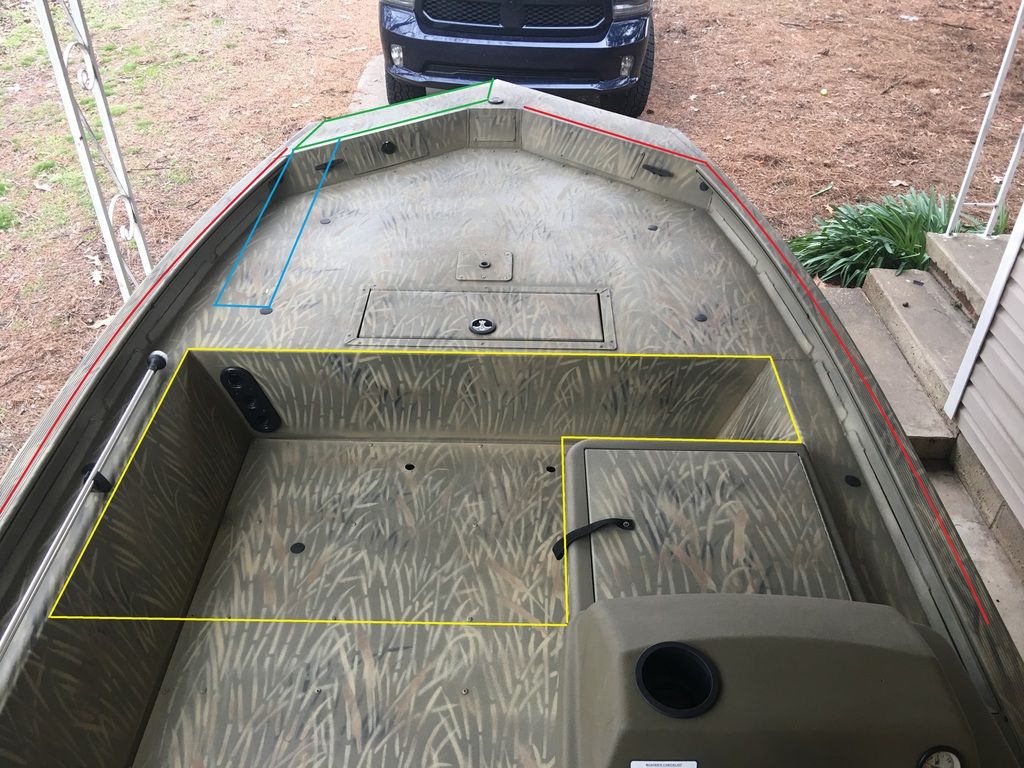 I just need some advise and directions to go.