Discussion Starter
·
#1
·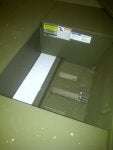 Well, I picked up my new 2011 Alumacraft 1542 from Academy sports in Orange Park, FL yesterday. It was $997. at Academy Sports. I couldn't find anything similar in size and rated for 25 hp (1440, 1442, 1448, 1546 or 1648) for less or less than $1,400. at a dealer. I would have bought a used boat if I could have found just a hull and trailer but every boat I looked at was either too nice to re-build, or too ragged out to bother with.
My plan is to deck the back out from the bench to the transom, put in a hatch to get to the gas tank and a pedestal seat in just fwd of the the center of the bench.
As for the controls, I am going to install a side console. but I am going to do something a little different than I have seen on other boaters rigs. I am going to deck the middle of the boat with plywood over styrofoam and build a small step just fwd of the rear bench about 6 inches high, 14 inches front to back that will go the width of the boat to mount the drivers seat and passenger seat to. It will be similar in design to how drivers/passenger seats in a bassboat are setup. This will put my center of gravity lower, more toward the center line, and more fwd in the boat than if I were to mount my drivers and passenger seat on the existing bench. It also will allow for the entire rear deck to be used for the pedestal seat and fighting/shooting fish and gators. I mocked it up when I got it home and I have plenty of leg room when seated in the driving position, maybe just enough room to put a small cooler in front of the side console between it and the center bench. The decks are going to be covered in some sort of non-skid surface. I'm leaning toward the non-skid or the Durabak for ease of cleaning.
The front of the boat will just have the floor plywood decked over styrofoam and covered. I do plan on extending the front deck about 1 or 2 ribs toward the center bech to make rooom to house 2 batteries. one on each side of the boat. one for the motor and power tilt and trim. The other for lights, trolling motor, or whatever!
The boat is rated for 25hp. but I plan on going about 30 or 35. I looked at the specs on the Merc 4 stroke 25hp and they are the same as the 30hp so I may just go that route and "sup- it up" lol! Original plans were for a Jet and I posted over on a jet thread a week ago. But apparently I am the only guy in Fl that has ever wanted to run a jet outboard and everyone has told me I would be crazy to do it. So short shaft prop it is.
I have been a lurker on here for a while and learned alot form you guys. I look fwd to puttin some of my newfound knowledge to use. I am also looking fwd to your input as I go fwd on this build. I have never attempted anything like this before! Here are a few pics of my humble little boat.